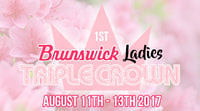 Welcome to the 1st Brunswick Ladies Triple Crown. This is a tournament that supports women both on and off the lanes. With three age divisions in addition to a restricted challenge, the Brunwick Ladies Triple Crown is truly an event for everyone.
Many of our bowlers, coaches, volunteers and families have been sadly affected by cancer. The Campbelltown Tenpin Bowling Association in conjunction with Brunwick Bowling, want to use this event to raise money for cancer research and support those affected in our bowling family. In 2017 we have linked with the McGrath Foundation, a charity with the aim of making life that little bit easier for those suffering with cancer.
This event brings together three divisions of womens bowling in Australia, Youth, Adult and Seniors for a new and exciting tournament format. With the very best competitors from right across Australia, the Triple Crown offers prestiege to the winners and a great opportunity for developing tournament bowlers to gain invaluable experience. Thanks to our wonderful sponsors we are able to offer over $15,000 worth of cash and prizes.
Entries will be taken ONLINE ONLY via our website. Please follow the link to submit your registration.
http://www.campbelltowncitybowl.com.au/brunswick-ladies-triple-crown/