I drilled one of these yesterday and dusted off my shoes to throw it today.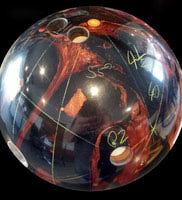 The ball is laid out at 55° x 4½" x 40°, with a P2 hole, which is stronger than I usually drill things. Motiv distributor Ken McLachlan recommended that I go a bit stronger than usual.
This is a very interesting ball. It's super-clean through the front, quite strong on the midlane and lays down, rolling very heavily on the backend, without covering a ton of boards. It's not a snappy piece, but park your ego at the door and you can stay further right on the approach and get a monster roll and impact.
I was out of practice, so my release was very "grabby" at the bottom of the swing for the first two games. The ball looked fine, despite bowling on a very messed up pair. I shot a couple of OK 200's with it and some comparison pieces. Interestingly, I stood on and targeted the same boards as with my polished Octane Burn, but the two balls looked very different with the Octane Burn being more angular.
Later on, I found my timing and was able to play with a softer hand and go straighter up the lane. Suddenly, both lanes looked very similar and as long as I executed, the ball struck. I left one ten pin and one nine pin (bad move) at Tuggeranong (Ngunnawal word meaning "back row pin") in the last 16 frames. Lots of strikes (and a few real clanger shots from your rusty reviewer.)
Ball impact was very good while covering a lot of boards, and excellent going straighter, the midlanes were messy though, so I think that on tournament or fresh league patterns, you could circle the lane with great carry as well as great control.
I think that this ball is a hidden gem in the market and an absolute house shot or medium pattern monster. Straighter players will love it on the friction to be able to stay outside where the carry is better. I suspect that the hybrid cover will take nicely to a little surface as well.
If you're looking for hook with control, this ball is well worth considering. Mine's gone into bag # 1!
Cheers,
Jason